The Opolskie Economic Development Centre, as a unit of the Self-Government of the Opole Voivodeship, was established on 2 May 2007. The main goal has been to coordinate actions aimed at inspiring and supporting structural economic changes that stimulate economic growth, entrepreneurship development and innovativeness. The Centre's structure consists of departments implementing the Regional Operational Programme for the Opole Voivodeship for 2007-2013, the Investor and Exporter Assistance Centre, the Innovation Department and the Entrepreneurship Department. The Centre, as a specialised institution, concentrates on creating the best conditions for economic growth, increasing the competitiveness and innovativeness of the economy of the Opole region and shaping the job market.
The Investor and Exporter Assistance Centre carries out tasks with the aim to increase the investment attractiveness of the region and to create investment potential.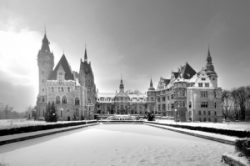 The Centre has a database of investment sites, with a base of industrial objects, one of the biggest in Poland. It prepares specialist analyses, investor visits. The Centre is a place of first contact for Polish and foreign companies looking for a site for their investment and supports them by preparing information packs on legal, statistical, and technical matters along with investment offers. An important task is cooperation with all institutions engaged in the investment process: local authorities, consulting companies, construction companies, utilities suppliers, schools and Special Economic Zones. Additionally, the Centre helps entrepreneurs in development of export by helping to find potential partners abroad, organising trade missions, B2B meetings and sector meetings. In 2010, the Centre was awarded the certificate of investor service quality by the Polish Information and Foreign Investment Agency. So far, the Centre has successfully supported investments of companies such as HanaPolska, Pasta Food Company, Keiper (Johnson Controls), Kraft Foods (Cadbury), Fabryka Puszek Stalowych, Metsa Tissue, Pichon.
The Centre realises a number of regional, national and international projects and cooperates with Polish and foreign partners. Another important task is to initiate innovativeness development of the economy and companies located in the voivodeship, as well as to raise entrepreneurship and self-development awareness among the inhabitants. The Centre has a thriving information point "Europe Direct" and a Local Information Point on European Funds.
The Opolskie Economic Development Centre
ul. Spychalskiego 1a
45-716 Opole
tel.: +48 77 403 36 00
e-mail: biuro@ocrg.opolskie.pl
www.ocrg.opolskie.pl